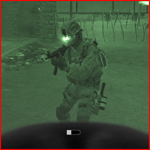 We might as well share with you some of the progress and updates we have implemented into our mods over the past month.
Obscurity & HitLoc:
• Lightning flashes added into storms that illuminate everything.
• NVG have been added back to everybody for use without a perk.
• NVG now have a battery, which drains during use and recharges when not in use.
• NVG perk recharges batteries quicker and extends battery life.
Note: HitLoc may be missing some of the above features, but they are planned.

Obscurity
• You must now assign controls via Controls > Multiplayer Controls: Night vision, Select Fire Mode
• Non-mandatory controls can be assigned for each individual fire mode and to drop weapons.
• Dropping weapons increases you speed.
• Dropped weapons will remain on the ground until picked up. You can horde weapons and come back for them next round.
• Spider Mines have been added which ensnare anybody caught within them.
• Day/night/weather cycle support for mp_fav, mp_warehouse3, mp_highrise, mp_modern_rust, mp_bacalau
Most of the work has been on Obscurity. We have a lot more new features and changes planned, which we will soon reveal. These updates are not officially released for download, but are available for viewing in the OC1 server.